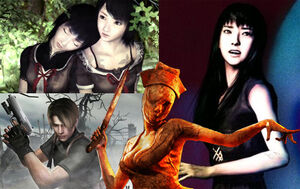 New pages
Welcome to FemaleHorrorFan
This is a wiki dedicated to the Survival Horror video game genre. I have been doing a blog on the subject for just over a year now and wanted to try something new, hence this wikia.
Any help on the this project will be very appreciated especially if you can help on the games that I have no experience in (See News). In the meantime please be patient whilst the Wiki gets underway or visit my blog... http://femalehorrorfan.tumblr.com/
Most Wanted
Pages on the following games and their characters needed:
Resident Evil Series
Resident Evil Outbreak Series
The Suffering
Dead Space
Left 4 Dead
Alone in the Dark
Clock Tower
Or look at the pages that are already available to fill in any empty links.
To see what your page should contain follow the templates shown here
Ad blocker interference detected!
Wikia is a free-to-use site that makes money from advertising. We have a modified experience for viewers using ad blockers

Wikia is not accessible if you've made further modifications. Remove the custom ad blocker rule(s) and the page will load as expected.