A brief introduction to the character including where the character is from.
Game:
Silent Hill, Silent Hill: Shattered Memories
Referenced in:
Silent Hill 3
Relations:
Cheryl\Heather Mason

In Silent Hill
Edit
Harry's story in Silent Hill 1....
In Silent Hill: Shattered Memories
Edit
Harry's story in Shattered Memories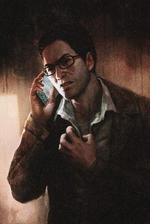 Harry is killed in Silent Hill 3 by a Missionary under the orders of Claudia Wolf.
He also appears in the UFO ending along with James Sunderland who comes down in a spaceship to take Heather away.
References
Edit
Put links of your references here. For help on how to do this click here
External Links
Edit
If you of any good sources of information on your particular game please put them here.
Ad blocker interference detected!
Wikia is a free-to-use site that makes money from advertising. We have a modified experience for viewers using ad blockers

Wikia is not accessible if you've made further modifications. Remove the custom ad blocker rule(s) and the page will load as expected.